Business in the United States has transformed radically in the past two years due to policy changes, the COVID-19 pandemic, and economic fluxes. Even with 2022 in the rearview, leaders are still grappling with the lasting shifts from the last 12 months. For example, while some may have predicted the overturn of Roe v. Wade, many leaders were unprepared for the ramifications on employee populations and the benefits that would start to emerge in response. This year will bring new challenges to HR leaders around economic uncertainty, heightened employee expectations, new legislation, the extension of hybrid work, and more. It's time to get ahead of what's to come. What's going to be top of mind for HR and People Team leaders in 2023?
Newfront's employee benefits professionals speak with a range of leaders across industries, and are experts at guiding CHROs through risk management, talent acquisition, and economic turbulence. Their bird's-eye view provides a peek at what's trending now and what's ahead. Here are their top 10 employee benefit trends predictions for 2023:
1. Cost-saving benefits.
A wave of reductions in force (RIF) and layoffs hit businesses in late 2022 due to slow business growth, rising labor costs, and a rocky economic forecast. Cuts were felt across retail, tech, manufacturing, finance, and other industries. Due to strong economic signals pointing towards a recession, some groups are opting not to invest in new benefits, according to Newfront data.
However, employers are interested in benefits that will ultimately lead to cost savings. That may include decision support tools to give employees confidence picking compatible plans for their health savings account (HSA), concierge tools for streamlining and reducing healthcare spend, and disease management plans, such as point solutions for cancer treatment.
2. Re-establishing remote workforce policies.
As employers continue to manage the risks around the return to office, "Setting remote workforce policies will be a top priority to tackle as we move into 2023 and will be a fluid situation," says Edward Cha, Newfront Senior Vice President, Midwest regional managing director, and global practice leader. When it comes to hybrid set-ups, Cha recommends that companies should make it clear to employees if they are remote-first or office-first, meaning one or the other is preferred or enforced.
Staying hybrid can be a business advantage. Between 2019 and 2021, the number of people working from home in the U.S. tripled from 9 million to 27.6 million. "The flexibility to have a hybrid work schedule is still very popular and can differentiate one employer from another when a candidate is making a decision," says Heather Yates, Newfront Vice President and administrative services practice lead. According to an October survey from LinkedIn, flexible work remains a top priority for job seekers. At the same time, she adds, "The key will be how to keep a dispersed workforce connected and feeling like a team." Employers must be mindful of the need to socialize, drive collaboration, and acknowledge time differences. 
3. Employees are making up for lost time in healthcare.
The COVID-19 pandemic drove pent-up claims, and many employees skipped preventative care and treatment. Now that employees are finally catching up on their medical needs, Newfront's producers have seen many later-stage cancer claimants hit, as well as other increases in healthcare spend.
Because of this, there will likely be a rise in concierge solutions that include an easy ability to book preventative treatments, incentives for preventative care, and disease management solutions for cancer and other diseases. 
4. Expanding wellness and wellbeing efforts.
According to Gallup, 44% of employees report that they feel a lot of stress at their daily jobs, which is an all-time high. Only 33% of employees said that they felt their wellbeing was thriving. How can employers improve their workers' lives both in the office and at home?
Lifestyle spending accounts (LSAs) are starting to have more widespread adoption, says Brian Gilmore, lead benefits counsel and Vice President at Newfront. "LSAs offer employers the flexibility to address many common life expenses that aren't eligible under the traditional FSA, HRA, or HSA arrangements—and without burdensome compliance limitations." That might include coverage for physical wellness (such as athletic equipment, fitness memberships, or fitness trackers) or emotional wellness (such as meditation classes, retreats, or park passes).
Some employers are looking to employee assistance programs (EAPs), benefits which assist employees with personal or work-related problems, to cover issues like elder care, substance misuse, relationship challenges, or legal programs. "Employer specialty health reimbursement arrangements have also become a very common way for employers to address employee needs in areas that are not sufficiently covered by the major medical plan," Gilmore says. That may include HRAs for gender dysphoria, mental health, or neurodiversity.
5. Rethinking support for reproductive care and family planning.
Some specialty HRAs have begun to include abortion-related medical expenses, including out-of-state travel costs to seek medical care, in response to the 2022 overturning of Roe v. Wade. For employees who might worry about keeping procedures private from their employer, Gilmore adds, "Maintaining privacy is always a concern, but there are very strict rules under HIPAA governing use and disclosure of protected health information that hopefully will provide comfort to most." 
Employer specialty HRAs are also increasingly covering other types of family planning, including infertility care, such as in-vitro fertilization, sperm donor expenses, and embryo transfer. "There has been a big push for these services to be addressed by employers in recent years as more attention has been paid to the inadequacies of traditional medical insurance in these areas," Gilmore says. Adoption assistance can also foster a family-friendly corporate culture and help make adoption more affordable. "Given the smaller number of people who do adopt, it can be a benefit that doesn't actually cost employers all that much," Yates says. "It shows the employer is thinking about their full employee population and creating an equitable environment for all employees."
6. Forging forward with DE&I initiatives.
Diversity has been a critical issue in recent years, and 2023 will be no exception. "This will cover all facets from attraction and retention, productivity, profitability, and most importantly creating a psychologically safe work environment," Cha says. He predicts that more resource groups will be created within organizations, which may include groups for racial or ethnic minorities, women, LGBTQ+ employees, caregivers, employees with disabilities, and veterans.
But DE&I won't be trending in exactly the same way. Between June and July of 2020, listings for chief diversity officers as well as heads and VPs of DE&I more than doubled on Glassdoor. By October of that year, such listings were at an all-time high. However, with recent workforce reductions, DE&I leaders have been among the first to get cut. This has created a sense of disconnect—and skepticism among employees that companies are truly as dedicated to DE&I efforts as they claim. "Employees want to know that employers are engaged and actively walking the talk with visible and measurable DE&I engagement," Yates says. This goes beyond bringing on specialized diversity leadership, which may not be possible in this economy. Hiring diversely (and supporting those hires) is just as important. "Diverse representation at the highest levels of the organization is key," Yates says. 
7. Increase in global business travel accident programs.
Business travel accident programs cover accidental death or dismemberment while traveling for work—now, sickness coverage is more likely to be included. Cha says he has placed more global business travel accident (BTA) programs in the past two years than in his entire 15-year career. 
"With the coronavirus pandemic bringing travel restrictions in 2020, the re-opening of travel has seen an exponential demand for travel insurance—specifically coverage for medical emergencies, such as being hospitalized for coronavirus," Cha says. "Not having coverage could leave employees at risk." 
8. Financial wellness programs on the rise.
With the threat of a global recession in 2023, employees may have questions about stocks, bonds, inflation, cryptocurrency, and NFTs. Financial wellness programs may include financial guidance, education, or consulting. LSAs might also cover home purchase costs, financial classes, estate planning, or credit counseling.
Student loan forgiveness has been in the news and repayment is also a trending issue, especially as younger generations enter the workforce. Tax-free employer student loan repayment assistance first became available in 2020 through the CARES Act, and an extension now means the offering is available through the end of 2025. "This new feature allows employers to reimburse employee student loan costs up to $5,250 per year on a tax-free basis," Gilmore says. "With President Biden's student loan forgiveness program in legal jeopardy, many employers are turning to this option as a key benefit to assist employees." 
9. Rethinking family leave benefits amid new regulations and changing expectations.
In 2023, laws and regulations around paid family leave are shifting in Colorado, Oregon, New York, Massachusetts, and Washington D.C. "More states are instituting mandates for paid family leave benefits that require the employer to collect and remit premiums to the state plan," Yates says. And, as more states implement paid leave requirements, employees are looking for how they and their family will be taken care of while on a leave.
"Employees want a longer runway to be home with their children when they are born," Yates says. Employers who can offer 16, 20, or even more weeks of leave, plus some wage replacement, are becoming employers of choice. Employers may also consider offering hybrid or part-time return to work options so new parents can ease back into work. 
10. The wild cards: Pet insurance and work from gym benefits.
"More and more, our pets are considered a part of the family," Yates says. "You can see it with the number of places that are pet friendly: Restaurants, hotels, stores, airplanes." But, according to the American Veterinary Medical Association, cost can be a major factor in how—or if—people seek care for their pets. That may be why the pet insurance market has more than doubled over the past four years. "Pet insurance can be a valuable benefit to help keep expenses down when needs arise for our furry friends," Yates says.
As for work from…gym? Yes, you read that right. Companies may have experimented with perks like on-campus gyms, free yoga classes in the office, or fitness expense accounts. Now, work-from-gym memberships are on the rise for gyms and clubs that support wellbeing. "Why not work at a place where you can get a smoothie or cold-pressed juice and a lift between meetings?" Cha says. This is a wellness and wellbeing benefit, but regular exercise has also been shown to improve concentration, memory, mental stamina, and creativity in the workplace.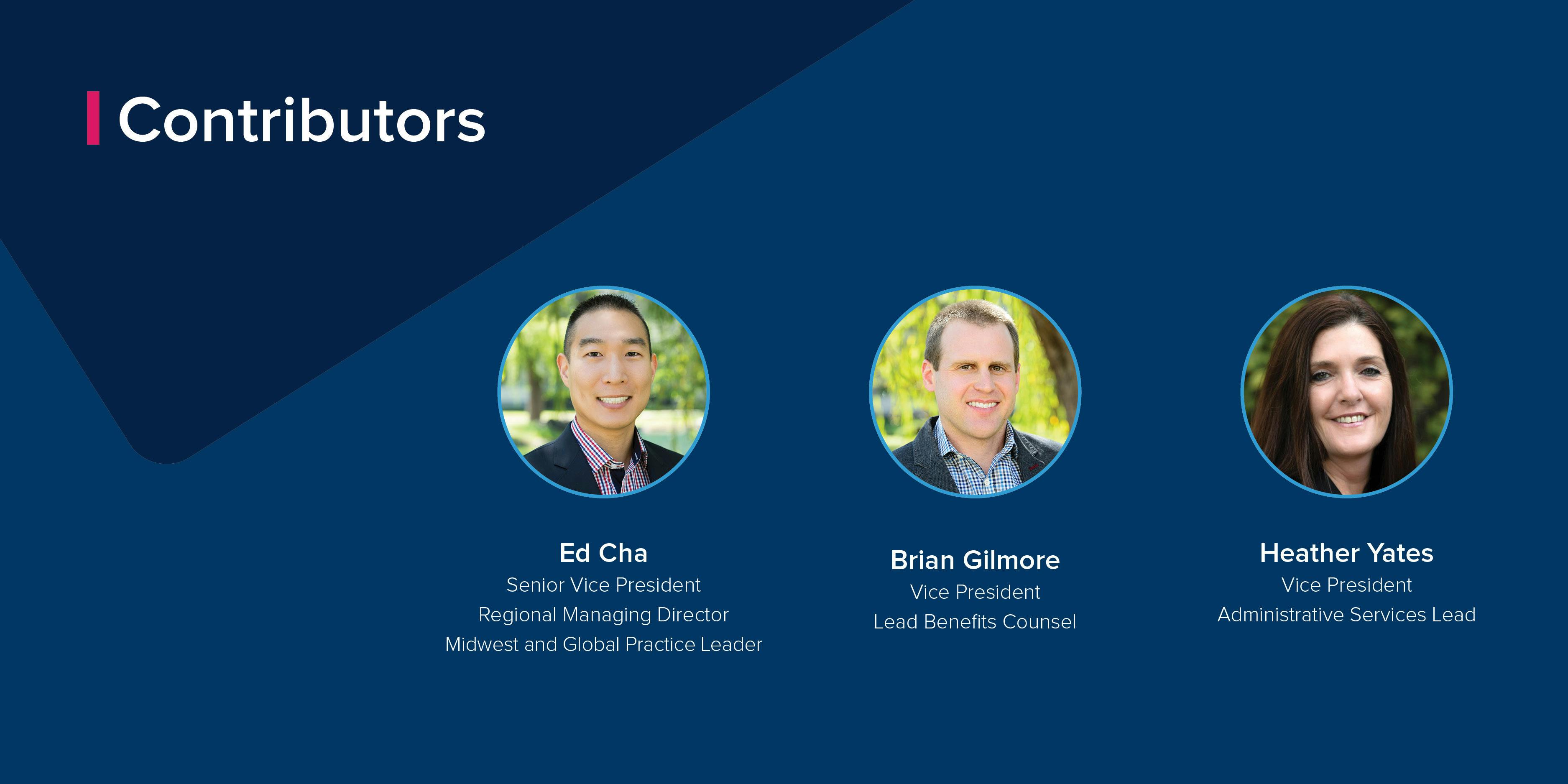 Meet the Experts
Edward Cha, Senior Vice President, Midwest Regional Managing Director, and Global Practice Leader: Edward is expanding Newfront in the Midwest. He leads the development, communication, and management of international programs and serves as a strategic consultant to multinational clients on broad benefits issues. Connect with Edward on LinkedIn.

Brian Gilmore, Vice President and Lead Benefits Counsel: Brian assists clients on a wide variety of employee benefits compliance issues. The primary areas of his practice include ERISA, ACA, COBRA, HIPAA, Section 125 Cafeteria Plans, and 401(k) plans. Brian also presents regularly at trade events and in webinars on current hot topics in employee benefits law. Connect with Brian on LinkedIn.

Heather Yates, Vice President and Administrative Services Practice Lead: Heather has nearly 20 years of experience in the human resources and payroll field. She also leads the Administrative Services practice. Connect with Heather on LinkedIn.
The information provided is of a general nature and an educational resource. It is not intended to provide advice or address the situation of any particular individual or entity. Any recipient shall be responsible for the use to which it puts this document. Newfront shall have no liability for the information provided. While care has been taken to produce this document, Newfront does not warrant, represent or guarantee the completeness, accuracy, adequacy, or fitness with respect to the information contained in this document. The information provided does not reflect new circumstances, or additional regulatory and legal changes. The issues addressed may have legal, financial, and health implications, and we recommend you speak to your legal, financial, and health advisors before acting on any of the information provided.
Keep up to date with Newfront News and Events—