At Newfront, we're proud of our growing culture of inclusion, collaboration, and improvement. We're enthusiastic about technology and helping empower our team to advise our clients. For Women's History Month, we decided to spotlight a Newfront client who also focuses on empowerment by coaching leaders to build diverse and inclusive organizations.
Sounding Board offers an AI-powered coaching platform. Newfront's co-founder Gordon Wintrob (GW) and Director of Employee Benefits Emily Sugars  spent some time discussing Sounding Board's vision and agile learning environment with founders Christine Tao (CT) and Lori Mazan (LM).
GW: Tell me about Sounding Board and how it got started.
CT: Our mission and vision has always been to help organizations create their most impactful leaders. That really stemmed out of my own experience working with a coach. I had cut my teeth at Google and YouTube, and then went to a hyper-growth venture-backed startup. 
I was one of two executives promoted from within. I found myself running about 70% of the company's revenue as part of our executive staff and had never done that job before. The company itself scaled to $100 million in revenue in less than three years. 
Our board and our CEO were pretty forward thinking at the time (back in 2012), and gave me a coach to work with. Long story short, it ended up having a profound impact on the way I thought about what "good" looks like when you think about talent development and why it's important to invest in your team and your leaders. 
Lori was my coach and now she's my co-founder. She's been in the industry for as long as they've been certifying coaches. So a lot of our philosophy and our approach and why we've been effective stems from her 25-plus years of experience coaching at the highest level.
GW: We were so excited to have this conversation to celebrate Women's History Month. One of the biggest challenges, especially in technology, is the gap in the talent pool between men and women. And this is more of a gap as folks rise up the ranks. When you coach female leaders, how do you coach them through these issues, especially when they might be the only woman in the room?
LM: Honestly, we don't position it as a gender issue. We position it as a style and skill issue. So, instead of looking at it as, "Oh, I'm in the room with all guys," we look at how do those people tend to interact? What's the best way to influence them, partner with them, collaborate with them based on their style? Then we explore how to develop the confidence, assertiveness to really take a place at the table. That would be true, whether it's a female, male, or whoever.
CT: We're a female-founded company, but our vision is broad. Everybody can benefit from Sounding Board. We think it's particularly important to bring coaching to all levels since we know that part of the problem is the pipeline issue that you mentioned. Another important piece is inclusion. Going down into the organization is one way to impact that. Especially if you can bring a personalized model that's not just a one-size-fits-all training. Now you're able to accelerate how quickly someone can develop those skills to create an inclusive environment.
LM: Leadership has traditionally been like, "Do these five things and you'd be a good leader." But, you have to remember, those five things are written in a book by older white males. So that may not work for a lot of people who are moving into leadership roles. Coaching is amazing because it's so personalized and it allows the individual to grow into the leader they're meant to be, can be, will be instead of saying "you have to fit in this box."
GW: I love that. One obvious answer to this next question is "coaching," but what can male leaders do to be better allies to women and create a more diverse and inclusive environment? 
LM: Yes, coaching, but there's actually one thing that's really important that was validated years ago by Harvard research: men can bring women into their networks. What elevates women in the workplace is the men who are inclusive in their network. There's literally one black female CEO in the Fortune 500. Not even Fortune 100, Fortune 500. So really, progress requires men to open the doors for the women.
One way this plays out with coaching is we have a customer who uses coaching for the underrepresented leaders in the organization. They pair them with a sponsor. And the sponsor gets coaching as well because otherwise they don't see their own biases. They learn what actions to take to support this person. This approach really makes development happen on both sides. These folks are stepping up, opening doors into their network, and challenging their own biases.
GW: Can we complete the picture on Sounding Board? Lori, what was it like to start Sounding Board with Christine?
LM: When I was coming up on 20 years as a coach, I began thinking about what I wanted to do next. I talked with Christine and we decided to go in together on Sounding Board for a couple of reasons.
First, it was about diversity. Most of the people that I coached were males, and they were white males, because that's who is at the top of most organizations. So, one of our goals is to bring coaching down through the organization to a more diverse group of users. We want to provide the benefit of coaching to more people, not just at the top. Even those folks at the top said, "Oh, I wish I had this earlier in my career." so it's that much more powerful to bring it to an entire organization.
Second, now that coaching is accepted and really popular, many companies want to find ways to bring this form of development to the leaders in the organization. But there isn't any easy way for them to do that. It's all small independent folks and there's no management of the coaches. So Sounding Board gives us an opportunity to create a coaching platform that brings this benefit to many more companies. In our first two years, we coached more folks than I personally coached in my entire career.
I'm also not your standard founder. I'm at the end of my career, instead of the beginning. I've been able to pour 25 years of experience into Sounding Board, so that's been both beneficial to Sounding Board and just super satisfying for me.
GW: Tell me a little bit about how you are using AI and technology to help scale your coaches and supercharge what they're doing.
CT: Sounding Board offers a front-end digital user experience for coachees but also tackles the back-end administration for managing coaches. This is a big challenge and it's why coaching hasn't been scaled in many organizations. 
The technology creates an entirely digital user experience for all of our users. You come on to Sounding Board, build a profile, and we use AI in the backend to match you to the coach. That's actually where the secret sauce is in terms of the coach matching. In addition to their regular coaching sessions, users also have the ability to chat with a coach on demand and track goals and progress. 
Customers can also utilize the platform to deploy their own coaches. So, we become more of an agnostic platform that is the centralized coaching management system for the company whether or not they are using our coaching network delivering the actual coaching. 
The last piece is around data. There really isn't a platform for tracking employee developmental goals. Like how do you take the performance goals you gave Emily and translate that into the skills and capabilities she needs to develop? Then, how do you actually offer resources that will help her develop that? At Sounding Board, we have a proprietary methodology to create the right goals and track that progress. It gives us a really unique picture of the insights that drive somebody's development. We have the ability going forward to tie that back into how it impacts the company and business.
GW: Can we talk also about the gender gap in Venture Capital? I know that only about 3% of VC dollars go to female founders. Sounding Board bucked that trend by raising over $13 million earlier this year. Congratulations! What tips might you have for other female founders out there?
CT: It went very quickly for us in our Series A, but we've had lots of fundraising rounds before that didn't go as smoothly. For me, it really was learning fundraising over time through trial and error. One of the things I learned, it's so simple, but with investors, it is so much about the future. What's your big future vision? Where are you going? Because investors think about future opportunity.
A big shift I had to make was to stop anchoring on what we had done to date and translate that into what's the bigger opportunity ahead. What you've done up until then is just checking the box. I don't want to say that that's a trap all women fall into, but at least for me, it was a big lesson. Because of my background as a Chinese-American, I was taught, "Put your head down, do good work, and then you'll get recognized for that." There's a very different dynamic needed to successfully engage with investors. 
LM: The other thing is keep trying. Many of our investors we actually pitched them twice. Male founders might have gotten funded the first time, but sometimes females have to develop more trust to get the investor's confidence since we don't look like other founders they've backed. Don't give up. It might take two times or three times. That's still better than not getting the money at all.
GW: I'm incredibly excited to showcase all the cool things you are doing as women, as founders, as business owners, and in coaching and leadership, I think it's so inspirational. Thank you.
For more about Sounding Board check out their website: https://www.soundingboardinc.com/
---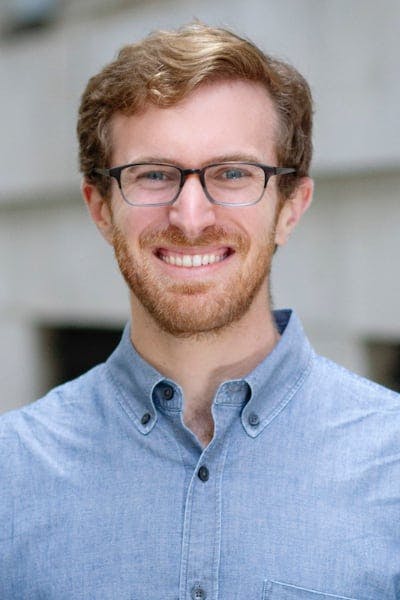 About the author
Gordon Wintrob
Co-founder & CTO
Gordon Wintrob is the Co-founder and CTO of Newfront, where he leads the development of Newfront's platform and operating system. Gordon attended MIT and worked at Morgan Stanley, Blackstone, and Goldman Sachs during his time there. Prior to Newfront, Gordon founded StackLead, a company that built automated technology to research sales leads. He sold that company to LinkedIn and it became LinkedIn's jobs product, aggregating millions of postings across the web. You can connect with Gordon on LinkedIn here.
---
The information provided is of a general nature and an educational resource. It is not intended to provide advice or address the situation of any particular individual or entity. Any recipient shall be responsible for the use to which it puts this document. Newfront shall have no liability for the information provided. While care has been taken to produce this document, Newfront does not warrant, represent or guarantee the completeness, accuracy, adequacy, or fitness with respect to the information contained in this document. The information provided does not reflect new circumstances, or additional regulatory and legal changes. The issues addressed may have legal, financial, and health implications, and we recommend you speak to your legal, financial, and health advisors before acting on any of the information provided.
Keep up to date with Newfront News and Events—