When we started Newfront, my co-founder and I saw an industry facing deep, structural problems. For clients, dealing with insurance had become an unbearable, unpleasant process. For industry professionals, doing their jobs had become more and more tedious as they were being told to work harder for less pay. For industry executives, finding high-quality young talent to enter the industry had become a major challenge. And we believe that society and entrepreneurship and families suffer when our collective safety net, the insurance industry, becomes frayed.
As a part of our pre-launch research, we first looked at other efforts to innovate and reform the industry. What we found was not very compelling. There were tech startups that built compelling technology but had wrong-headed ideas about replacing industry talent with computers. On the other side were existing industry incumbents whose best contribution to innovation was "going paperless" or using Docusign to execute agreements.
We were certain that there was a better path; one that combined the agility and technological capabilities of startups with the deep sophistication and customer focus of industry professionals. We further determined that our best bet for quickly delivering a superior client experience and better platform for producers and support teams would be by focusing on technology, economics, and culture.
Technology
When brokerages talk about investing in technology, they often mean buying off-the-shelf tools like AMS tools or application tools like Indio. These tools look great in the marketing pitch, but the reality is that they don't work well with each other at all. And once these tech vendors become established, like the AMS providers, they stop innovating because they know how painful it is for brokerages to rip them out. These technologies may make some incremental improvements for the brokerages, but they don't make support teams work better with producers, they don't improve customer outcomes, and they're not intuitive. This was not a direction that we wanted to go.
Instead we looked at the companies that we admired the most and saw that their differentiating value came about because they wrote their own software. Apple, for example, makes its money by selling hardware (phones, watches, computers) but instead of just selling those products they invested millions into writing software that they don't sell. Why invest in software when you only sell hardware? Because Steve Jobs recognized that building a beautiful, magical, seamless software experience made their hardware incredibly valuable. Tesla sells cars. But by writing their software from scratch, they've provided a user experience that absolutely dwarfs the experience provided by other electric carmakers. The software is what made Apple and Tesla the two most valuable companies in their sectors.
Newfront is a retail insurance brokerage, and we build our software from scratch because doing so allows us to provide an experience to our customers, producers, and account managers that far exceeds that of any other brokerage in the world. Make no mistake - this is hard, expensive, sophisticated work. But our customers and employees make it clear that the work is worth it.
For us, this process started by building service for our clients similar to online banking. Our customers can log in to see their policies, their covered entities, download their certificates, file or check on claims, and access (or pay) their bills. We've made the entire insurance application process digital, and our customers' information carries over from year to year, which makes renewals much less painful for them and for our staff. Then we built our own AMS system. Then we started adding ideas from our producers that would delight their prospects.
Economics
Our second key area of differentiation was around the economics for our producers. For too long this industry has extracted as much money as possible from the producers in order to line the pockets of the ownership. With the rise of private equity, this inequality has only gotten worse. Agencies are cutting service staff, cutting splits, and cutting producers out of any meaningful ownership. We think that that is wrong, but also incredibly shortsighted.
The hardest job in any brokerage is producing new business. The gifted professionals who do this work should share in as much of the value as possible. And when everyone in the agency works their tails off to build a successful, transformative business, they should get equity.
Newfront not only pays the highest splits in the industry, but we also give equity in the business to every employee. We believe that this shared ownership aligns us all to do what's best for our clients since our reputation with clients will ultimately determine the measure of our success as a company. Many question how we can afford the splits that we offer, and the answer is that the technology allows for efficiencies throughout the business that make us a far more profitable entity than other brokerages our size. We pass these savings back to our producers.
Culture
Our third area of focus was to build an incredible team with a terrific culture. The energy when you come into the office is electric — we're a group of people that knows we have a chance to truly move this industry forward, and you can sense that effort and drive from the team. Folks that come in to interview routinely say that they've never experienced anything as exciting as Newfront in their careers. 
We've built a powerful coalition that bridges the domains of technology and insurance. We have folks with decades of industry experience working side-by-side with talented professionals coming in with a fresh perspective.  By only hiring the best account managers, engineers, producers, creatives, product managers, and operators we've moved far faster than any other brokerage to seize the historic opportunity in front of us.
We've had an amazing journey so far and have brought on thousands of clients across the country who were searching for a better insurance experience. Looking ahead, we're focused on scaling the team so that we can continue to improve and bring the benefits of working with Newfront to even more clients. The opportunity to move this industry is enormous and we're truly just getting started. Onward!
---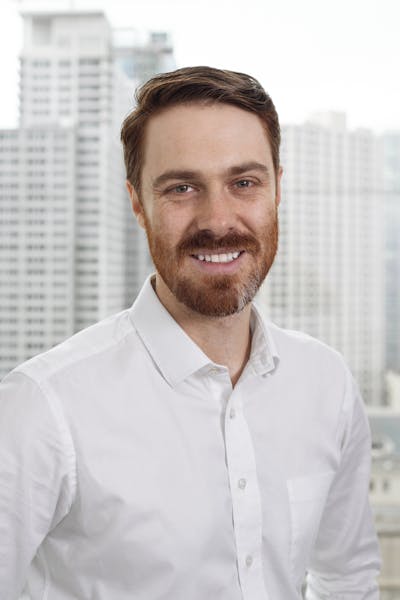 About the author
Spike Lipkin
Co-founder & CEO
Spike Lipkin is the CEO and Co-founder of Newfront. Prior to Newfront he was one of the first employees at Opendoor, where he helped grow a five-person company into a business currently valued at more than $3 billion. Prior to Opendoor, Spike was an investor at Blackstone, where he served on the startup team that built Invitation Homes into the largest owner of single family real estate in the United States. You can connect with Spike on LinkedIn here.
---
The information provided is of a general nature and an educational resource. It is not intended to provide advice or address the situation of any particular individual or entity. Any recipient shall be responsible for the use to which it puts this document. Newfront shall have no liability for the information provided. While care has been taken to produce this document, Newfront does not warrant, represent or guarantee the completeness, accuracy, adequacy, or fitness with respect to the information contained in this document. The information provided does not reflect new circumstances, or additional regulatory and legal changes. The issues addressed may have legal, financial, and health implications, and we recommend you speak to your legal, financial, and health advisors before acting on any of the information provided.
Keep up to date with Newfront News and Events—