Over the past 6 months, the work-from-home transition imposed by #COVID19 has put an enormous strain on everyone. Employees are navigating how to blend both professional and personal responsibilities under the same roof. With work and life boundaries merging, burnout is surfacing more frequently across the board. Our success as a company will be defined by our team, and so understanding and preventing burnout is crucial.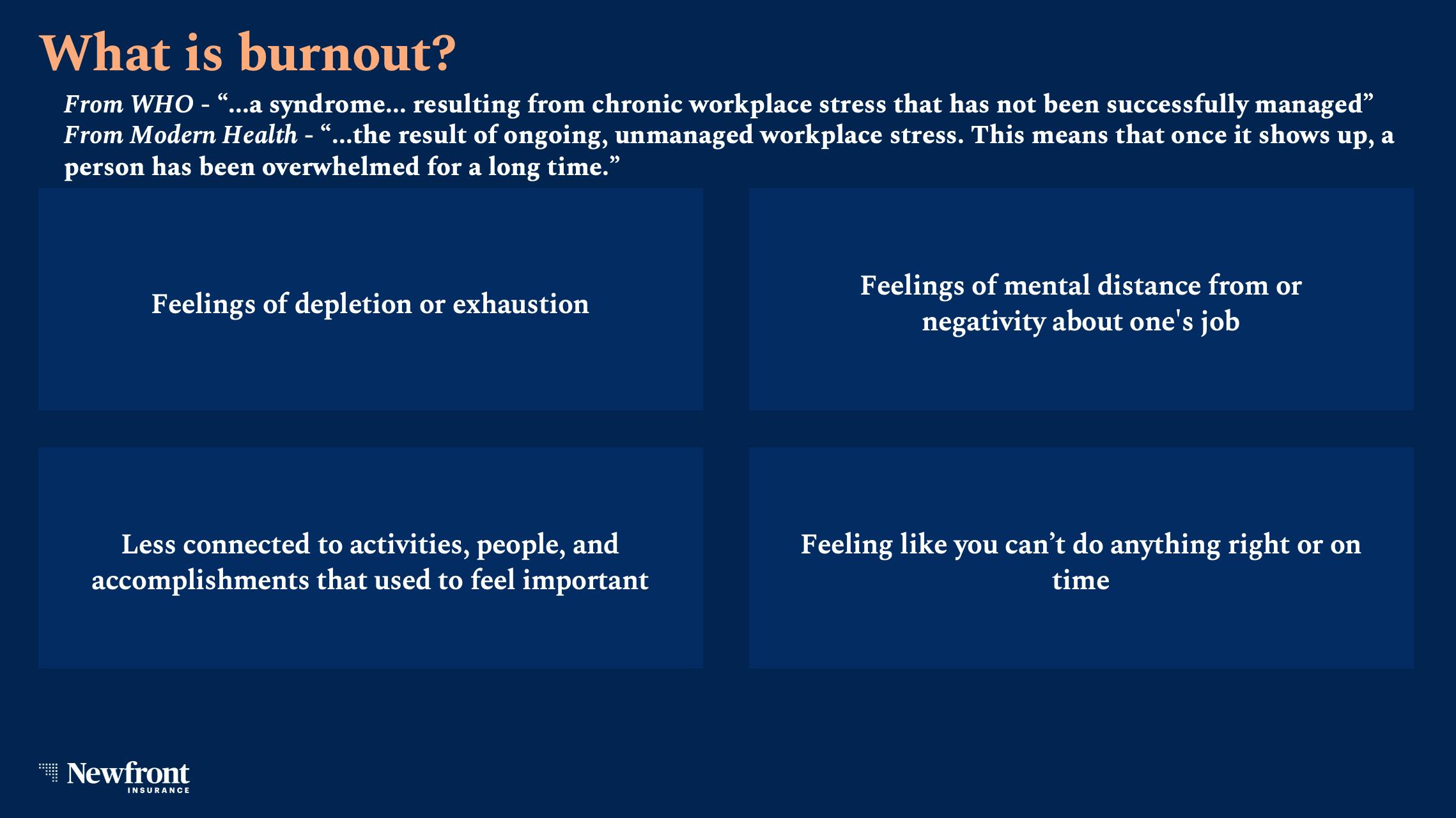 On September 14, our Head of People, Heather Dunn, led the team through a valuable session focused on identifying, acknowledging, and preventing burnout.  Since the start of the pandemic, we have partnered with Modern Health to ensure that our employees have access to a variety of resources that affect all aspects of health. A recent study conducted by Modern Health illustrates that the majority of those surveyed agree that the pandemic is having an effect on our stress levels and work-life balance.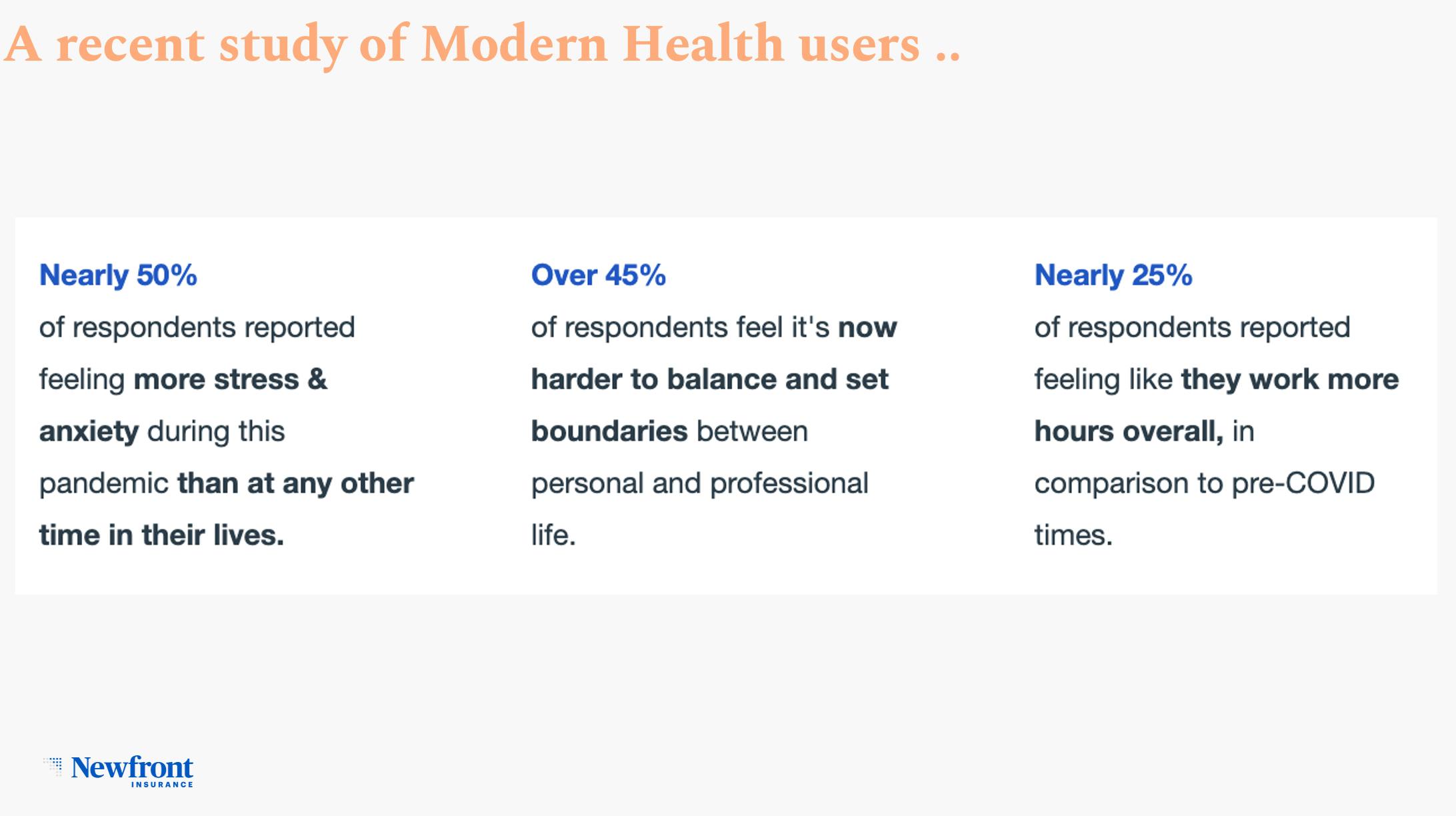 How do we combat burnout? 
We spent time understanding that burnout is a medical condition that can show up in many different forms including depression, exhaustion, resentment, and loss of connectedness. It can be caused by a variety of work related reasons including: unreasonable time pressure, lack of communication and support from a manager, unclear job expectations, monotonous job tasks, work-life imbalance, etc. Heather walked the company through a self reflection by rating the frequency of common signals of being close to burnout. 
The meat of the session outlined how we as individuals can prevent our own burnout. The key takeaway is to monitor and understand the key burnout warning signs, where the root cause lies and then communicate this with your team lead. Below are a few concrete strategies we discussed to combat burnout if you feel early symptoms.
1. Consider making changes within your regular work schedule.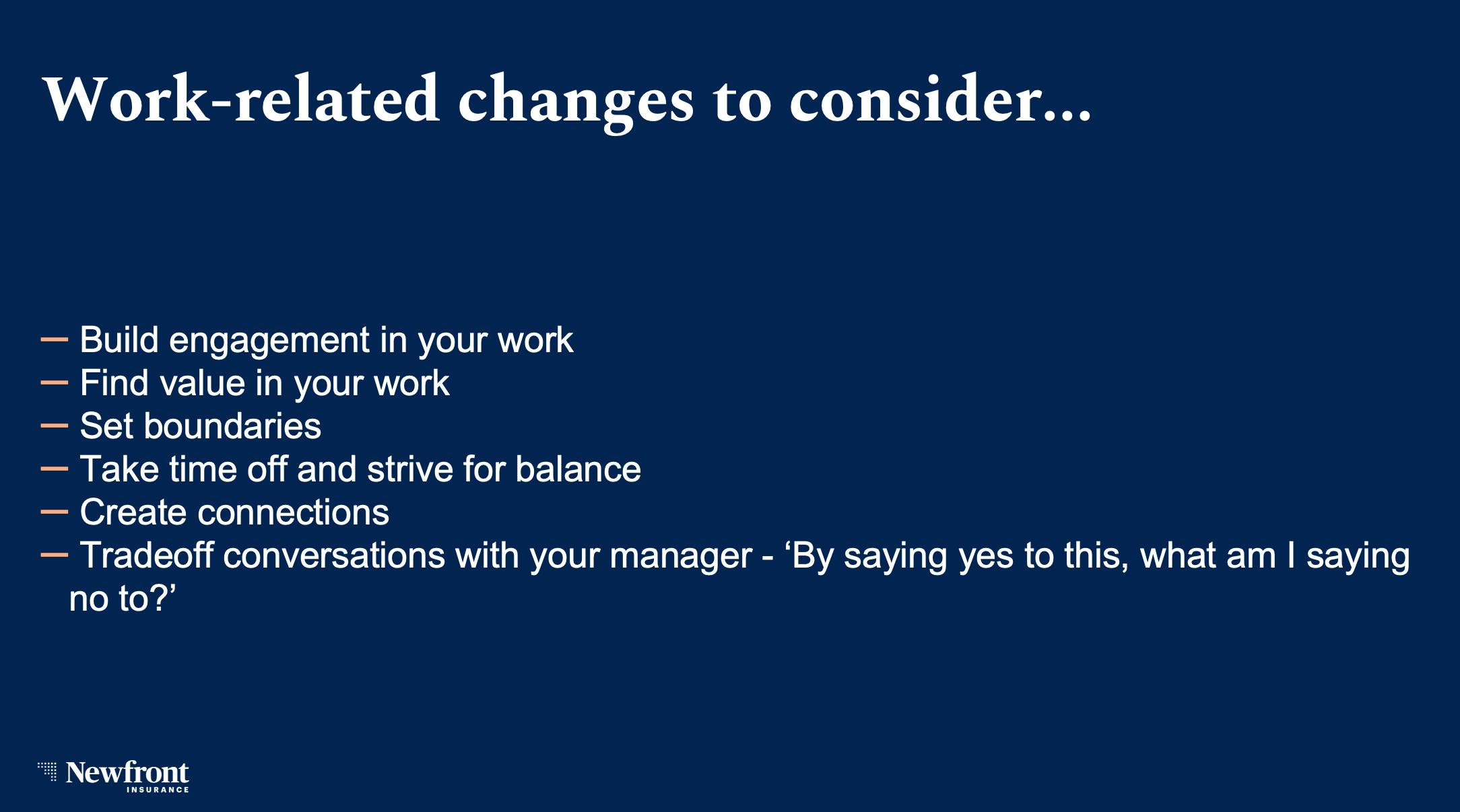 2. Use a Prioritization Matrix to determine what is most important and what could come off of your plate.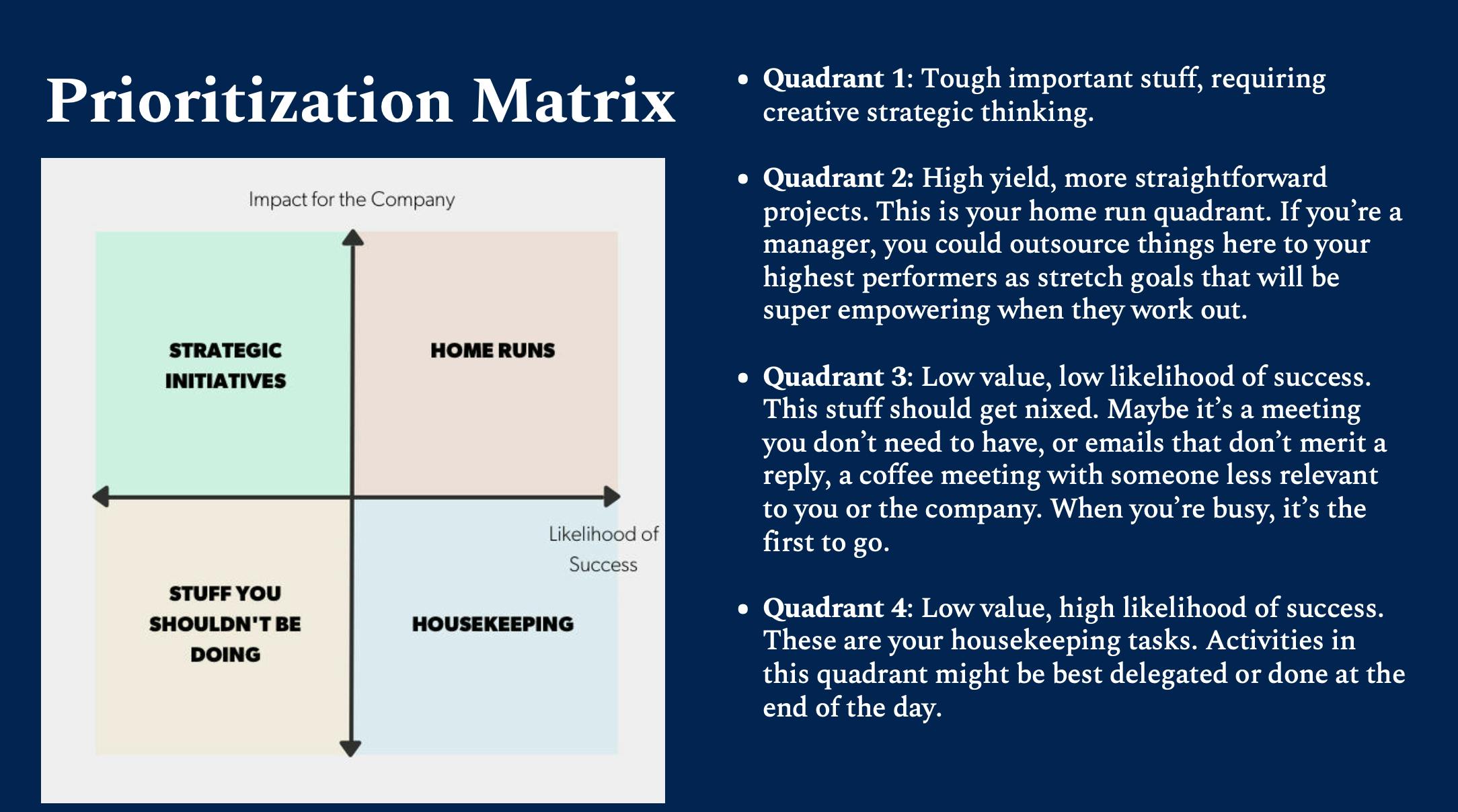 3. Ensure you are effectively communicating your priorities and anything that may be falling off.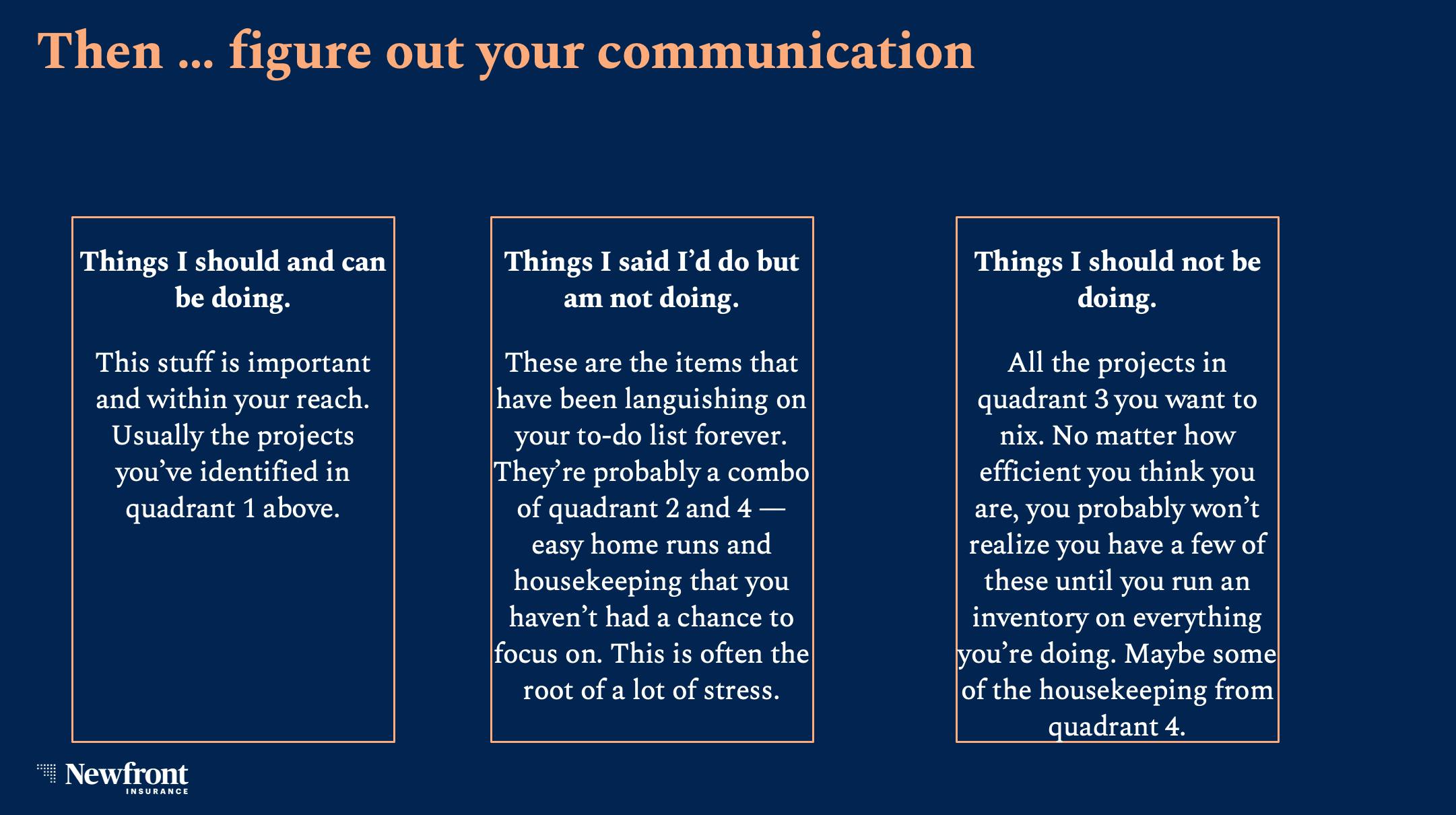 4. Communicate with your Manager. Let them help!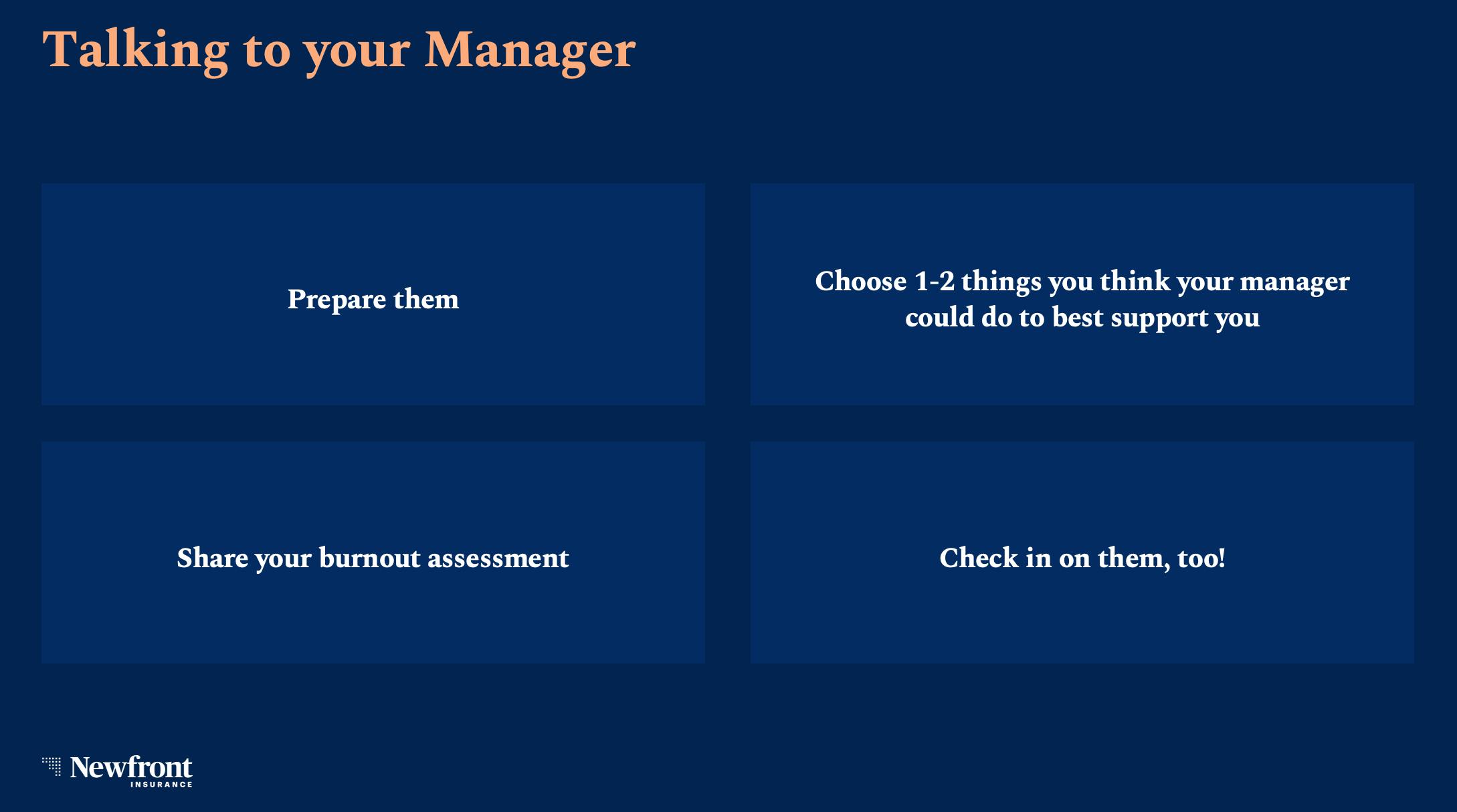 How will you manage and prevent burnout? What is one personal or professional step you will take today to help? How will your company support you? Ask yourself these questions and understand that burnout is real and important to address, especially in light of working from home, where work and personal lines continue to blur. Newfront believes in the power of normalizing language around burnout and equipping all employees to identify, address, and prevent it. Employee health and morale is paramount to our success. 
** Content taken from LifeLabs Learning and First Round.com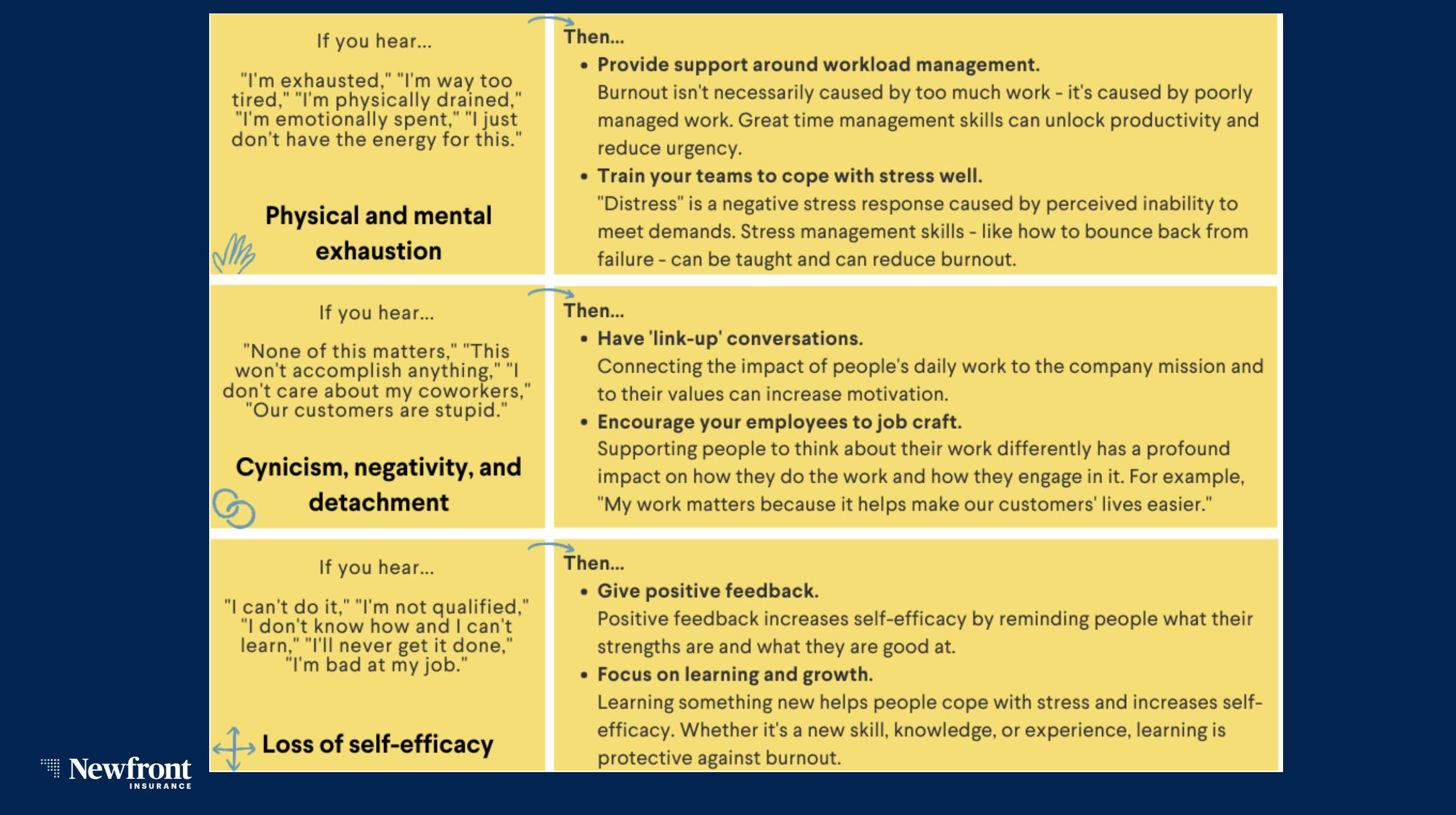 The information provided is of a general nature and an educational resource. It is not intended to provide advice or address the situation of any particular individual or entity. Any recipient shall be responsible for the use to which it puts this document. Newfront shall have no liability for the information provided. While care has been taken to produce this document, Newfront does not warrant, represent or guarantee the completeness, accuracy, adequacy, or fitness with respect to the information contained in this document. The information provided does not reflect new circumstances, or additional regulatory and legal changes. The issues addressed may have legal, financial, and health implications, and we recommend you speak to your legal, financial, and health advisors before acting on any of the information provided.
Keep up to date with Newfront News and Events—