As a nonprofit, employment social enterprise focused on creating life changing opportunities through training and the power of work for people experiencing barriers to employment, Newfront is honored to partner with Goodwill San Francisco, San Mateo, and Marin (SF Goodwill) as the organization's Property & Casualty and Benefits broker. Earlier this month, we sat down with President & CEO William Rogers to have a conversation about the intersectionality of race and sexual orientation, his experience as a Black gay man who leads one of the largest non-profits in the San Francisco Bay Area, and how he's achieved authenticity and a sense of belonging in the workplace.
William is an accomplished leader heading up the revitalization of SF Goodwill. Named by the Sun Reporters as one of the "Talented Black Twenty-Five" leaders and achievers in Northern California and recognized by the San Francisco Business Times as one of 12 local LGBTQ business leaders for his contributions to the community, he is well-respected for his business results and for building and leading an inclusive workplace.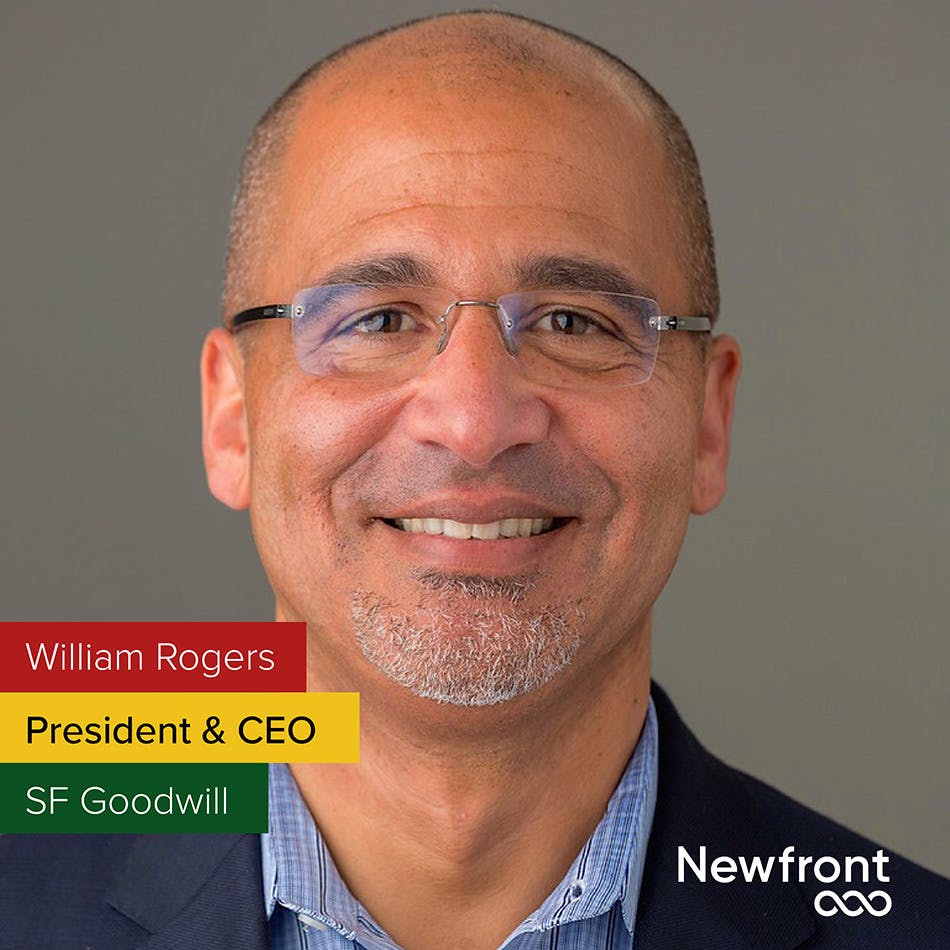 The importance of belonging and acceptance is very personal to William. Growing up in South Los Angeles in a middle-class black community, he learned at an early age that his family and community of origin wasn't ready to accept him as gay. Rather than quash who he really was, he made the difficult choice to leave home at 16. He found himself alone and living on the streets for several months and was financially insecure for many years after. He knew he wanted to go to college and started at community college four times, but dropped out each time for various reasons. A counselor at the school encouraged him to fully embrace his identity and to not give up. 
"I needed a second chance four times," William joked. The fifth time it stuck – he completed his first year at Santa Monica College and made the dean's list, served as student body president his second year, and then transferred to UC Berkeley where he graduated with honors.  
The life obstacles William has faced and overcome have shaped his leadership approach. He is a compassionate, mission-driven leader dedicated to driving excellence through Goodwill's core values of safety, belonging and learning. Over the past five years, William has developed and led an exceptional team and nurtured a performance-based culture that has transformed the organization's business results. His commitment to diversity and inclusion is unwavering. When he came to the organization, it was largely homogenous in the leadership ranks. A recent survey found now nearly 80% of the organization's staff identify as People of Color as do 50% of the senior leadership team. Additionally, 40% of the board of directors also identify as People of Color and 45% of the board identify as female. When William speaks of diversity in the workplace, his definition of diversity extends well beyond ethnicity or gender identity. He values diversity in terms of backgrounds, experiences, styles and strengths. William leans into and celebrates each employee as individuals - building a natural culture of inclusivity that feels organic and authentic.
How though? How does one build an organically inclusive environment? William has prioritized values-based leadership to guide Goodwill's team and business. The core values of safety, belonging and learning at SF Goodwill are broadly embraced and continuously nurtured. These values help create the culture to allow every individual at Goodwill to show up authentically and feel valued for who they are and where they are.
Here are some other takeaways from our conversation with William:
On Creating an Accepting Workplace: I try to create the organization I want to work in. I don't want to work in an organization that is toxic, where there's retribution, where people are not accepted for who they are. I'm very open about my background. Each of us has a different path and value which leads us to the present. If you're working with someone in an organization, you both arrived at a shared destination even if the paths you took were very different. It's an opportunity to embrace diversity and authenticity. "Encouraging authenticity is valuable, seeing it in action is incredibly powerful."
On Allyship: "There will always be people who are excluded based on their group affiliation. I know what it's like to feel alone, to not belong. It's more acute for folks who are being treated in disparaging ways because of who they are," he said. "I try to use my influence to help others so they don't have to experience that. It's what an ally does. It's why empathy and allies are so important. We've all needed an ally at some point in our lives."
On Black History Month: Like many of us, I wish I'd been taught in school about the many Black scientists, inventors, educators, humanitarians, and artists who've helped shape our country and have made our world a better place. As a young Black man growing up, I was fortunate to learn about Black excellence from family members. The term 'Black History Month' implies that Black history is somehow different than American history and I reject that. I think when Black history, LGBTQ history, women's history - among many others – are taught in an integrated and thoughtful way, it demonstrates the value of all contributions to the fabric of American History.    
On Turning Differences into Strengths: Breakthrough innovation can occur when different ideas, perceptions, and ways of processing and judging information collide. Understanding and appreciating this has unleashed remarkable collaboration and results among teams at Goodwill because it more powerfully brings people together who see and show up to the world in different ways. Knowing how to hire and build teams to work collectively with one another and to complement each other's strengths and weaknesses is a key to building a solid, diverse, and inclusive workplace. "You have to get comfortable with the conflict that comes with diversity of experience and divergent ways of thinking. The outcomes are 100% worth it. You get a much better result in the end," says William.
---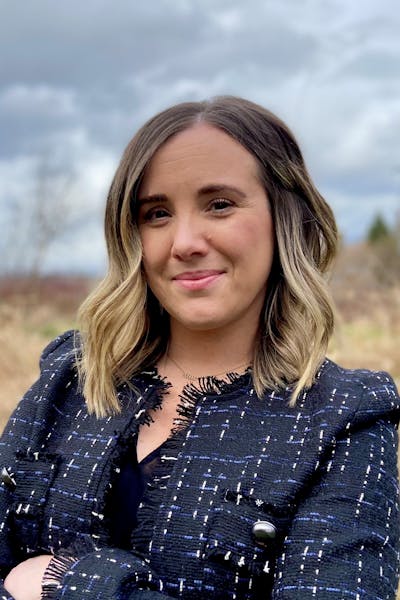 About the author
Shaneé Malone
Senior Director of Marketing
Senior Director of Marketing with a passion for storytelling. Shanee develops and implements marketing strategies, translating offerings into messaging and content to help team members and clients achieve their business goals. She is a DE&I leader committed to building an inclusive workplace. You can connect with Shanee on LinkedIn here.
---
The information provided is of a general nature and an educational resource. It is not intended to provide advice or address the situation of any particular individual or entity. Any recipient shall be responsible for the use to which it puts this document. Newfront shall have no liability for the information provided. While care has been taken to produce this document, Newfront does not warrant, represent or guarantee the completeness, accuracy, adequacy, or fitness with respect to the information contained in this document. The information provided does not reflect new circumstances, or additional regulatory and legal changes. The issues addressed may have legal, financial, and health implications, and we recommend you speak to your legal, financial, and health advisors before acting on any of the information provided.
Keep up to date with Newfront News and Events—