Mindfulness for People Leaders: Wellness Coach's Tips for Recognizing and Recovering from Stress
The past two years have brought unprecedented challenges and transformational change to the workplace, from managing the pandemic to addressing racial inequities, to enabling a work-from-home workforce. And for each of these challenges, People Leaders have been called on to help organizations adapt and thrive. This has stretched people to the limits of their capabilities and often increased the stressfulness of jobs that were already demanding.
Last week, Newfront hosted a webinar for People Leaders featuring mindfulness exercises led by guest speaker Andy Lee, Head of Mindfulness at Wellness Coach, to help People Leaders and other individuals with taxing jobs to combat this workplace stress.
What is stress?
Andy defined stress as the emotional, cognitive, and physiological reaction to situations we perceive as challenging, threatening, or difficult to deal with. Stress, he emphasized, is a matter of perception and the amount of stress we feel is often related to how large of a threat we perceive.
He also listed an acronym, SCARF, that summarizes the types of situations that stress humans out: threats to Safety and Status, Certainty, Autonomy, Relatedness, and Fairness. Attendees were then invited to imagine scenarios that they experienced stress in the last week, examine which of the categories in SCARF it fell into, and identify where in the body they felt this stress most acutely.
Andy then led the attendees in exercises aimed at re-centering our minds on breathing, being aware of our surroundings, and quieting our thoughts. This meditation can be experienced most clearly through the webinar itself, and a link to the recap can be found below.
Newfront takes stress management and overall employee wellness very seriously. Recently, our organization implemented bi-monthly Mental Health Days and we encourage our employees to take these breaks to help reduce stress and burnout and return to work with increased energy and a renewed spirit. Additionally, we've written extensively on employee wellness, and our tips for reducing stress can be found in our recent blog post for Stress Awareness Month and others on the blog site, such as last year's post offering guidance for mental wellness in the transitional fall months.
Newfront is also hosting another Mindfulness for People Leaders webinar next week, this time focusing on managing the distracted mind. Click here to sign up.
---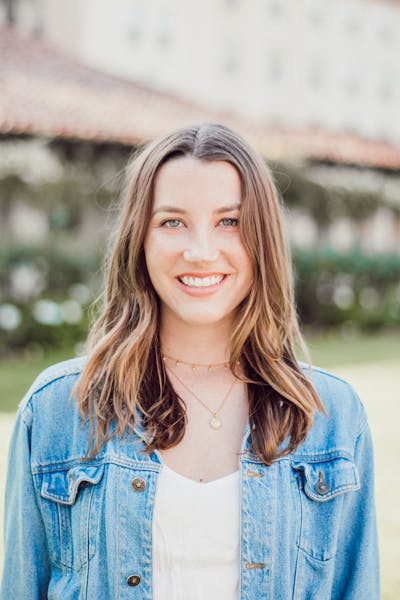 About the author
Megan O'Toole
Marketing Manager
Megan is a Marketing Manager with a focus on content development and strategy. Megan works with Newfront's key thought leaders to create compelling content and meaningful resources for our peers and clients.
---
The information provided is of a general nature and an educational resource. It is not intended to provide advice or address the situation of any particular individual or entity. Any recipient shall be responsible for the use to which it puts this document. Newfront shall have no liability for the information provided. While care has been taken to produce this document, Newfront does not warrant, represent or guarantee the completeness, accuracy, adequacy, or fitness with respect to the information contained in this document. The information provided does not reflect new circumstances, or additional regulatory and legal changes. The issues addressed may have legal, financial, and health implications, and we recommend you speak to your legal, financial, and health advisors before acting on any of the information provided.
Keep up to date with Newfront News and Events—