In 2021, effective leadership requires managing a complex web of responsibilities, relationships, and expectations to help an organization adapt and thrive. People leaders have been called upon to help businesses navigate the ongoing impact of the COVID-19 pandemic on the workforce, the transition to in-office, fully remote work structures, or somewhere in between, and the expansion of diversity, equity, and inclusion initiatives, to name just a few, are of their many obligations.
Juggling all of these roles at once can lead to stress and burnout. However, cultivating mental wellness and practicing mindfulness, both within your role and outside the workplace, can help mitigate the effects of work-related stress. To help leaders build their mindfulness skills, we invited Andy Lee, Head of Mindfulness at Wellness Coach, to lead a webinar series with Newfront.
The first webinar in this series focused on managing and the second webinar, which we hosted just last week, centered on managing distractions and training our focus.
What is focus?
Andy described focus as concentrated attention on a specific thought, idea, or activity – or "keeping your attention in one place." This mental faculty is necessary for organizing our thoughts, completing tasks, forming and nurturing relationships, and navigating challenges throughout the day. The mind naturally wanders, shifting attention from one object to the next, and research suggests we spend nearly 50% of our day thinking about one thing while doing another. This distraction can cause us to be less happy and feel more disconnected than when we focus our attention on the task at hand.
Furthermore, "multitasking," or trying to accomplish two tasks at once, is not possible for most work-related tasks and can even result in a 40% drop in productivity. In fact, we are never truly multitasking, but switching quickly between the two tasks, which is less effective and more mentally draining than completing the two tasks consecutively. Instead of multitasking, monotasking – or focusing on a singular task for a fixed amount of time – can actually increase focus and productivity.
What is mindfulness?
A simple definition of mindfulness is paying attention to your present moment experience with an attitude of openness and curiosity. This practice is about bringing together all of our scattered mental energy and refocusing it on the present moment or task at hand and cultivating a judgment- and expectation-free approach to our everyday experience.
Meditation is the exercise that strengthens your capacity to be mindful throughout the day. If we think of our mind as a muscle, mediation is the workout that strengthens our ability to focus and be present in our experiences. Practicing meditation can help develop the skills necessary to be consistently mindful, which can reduce the stress caused by the distracted, overwhelmed mind.
Watch a replay of the webinar below to experience the meditation practice that Andy led the participants through during the session.
At Newfront, we take stress management and mental wellness seriously, and we've written extensively on employee wellness. Check out our tips for reducing stress in our recent blog post for Stress Awareness Month and others on the blog site, such as last year's post offering guidance for mental wellness in the transitional fall months.
---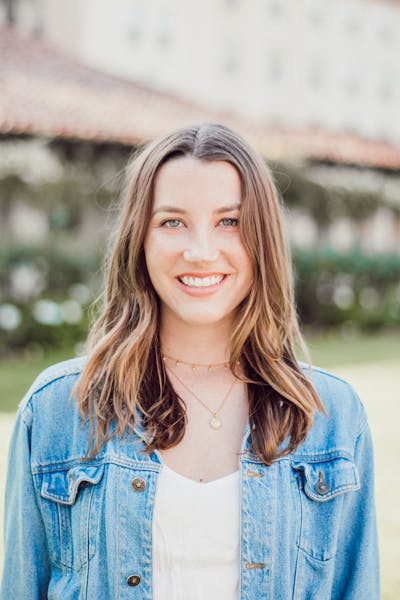 About the author
Megan O'Toole
Marketing Manager
Megan is a Marketing Manager with a focus on content development and strategy. Megan works with Newfront's key thought leaders to create compelling content and meaningful resources for our peers and clients.
---
The information provided is of a general nature and an educational resource. It is not intended to provide advice or address the situation of any particular individual or entity. Any recipient shall be responsible for the use to which it puts this document. Newfront shall have no liability for the information provided. While care has been taken to produce this document, Newfront does not warrant, represent or guarantee the completeness, accuracy, adequacy, or fitness with respect to the information contained in this document. The information provided does not reflect new circumstances, or additional regulatory and legal changes. The issues addressed may have legal, financial, and health implications, and we recommend you speak to your legal, financial, and health advisors before acting on any of the information provided.
Keep up to date with Newfront News and Events—