January was an exciting start to the year, to say the least. The new Omicron variant brought back a familiar feeling of anxiety, uncertainty, and volatility. However, this wave did prove to be different (in a good way). With nearly 63% of Americans fully vaccinated, and about 75% with at least one vaccine, we saw lower hospitalizations and deaths.
What we did see, however, was the continued impact of COVID on the economy and financial markets. If you went to the grocery store or filled up your car with gas last month, you might have done a double take at your receipt. Inflation jumped at its fastest pace in nearly 40 years last month; a 7% spike from a year earlier. Prices rose sharply in 2021 as part of a rapid recovery from the pandemic recession. Significant injections of government aid and near-zero interest rates helped spur demand for goods, as vaccine rollouts returned a sense of confidence to dine out and travel. Inflation, COVID, supply chain issues, possible rate hikes by the Federal Reserve, and geopolitical issues shook the financial markets last month. January was the worst month for U.S. stocks since March 2020.
Nothing to get all up in arms about. Market pullbacks of 10% are more common than you might think. The chart below from J.P.Morgan illustrates that, despite average intra-year declines of 14%, annual returns were positive in 32 of the last 42 years. Intra-year pullbacks can create buying opportunities as investors are able to buy more shares at cheaper prices. Given the nature of how employees contribute to their retirement plans (typically twice a month via payroll deductions), this dollar cost averaging strategy minimizes the allure of trying to "time the market."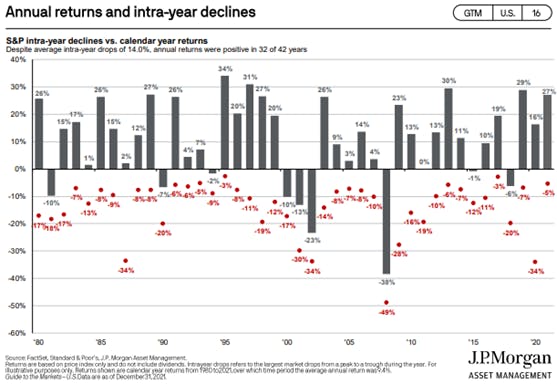 While market volatility is an inevitable part of investing, that doesn't make it less painful or confusing for investors. When it comes to educating employees about their retirement plans (401(k) or 403(b) plans), we see periods of market volatility as an opportunity to revisit the long-term investing principles, e.g., time in the markets vs. marketing timing, the importance of diversification, knowing your risk tolerance, and (my personal favorite) where find additional support and resources.
Part of an employer's fiduciary responsibility in sponsoring a retirement plan, is to educate employees about the plan, at least annually. Covering topics such as the plan design, how to understand the investment choices, how much to save, etc. We feel that education, particularly around periods of market volatility and uncertainty, is an effective time to grab your team's attention – since they're likely reading the same news headlines.
Our Retirement Services team is ready to help you deliver an education session for your employees about the retirement plan. In addition, we're ready to learn about your retirement plan needs more broadly and collaborate on a strategy for managing your fiduciary responsibilities. Reach out to us to learn more about what makes your approach unique.
Newfront Retirement Services, Inc. is an SEC registered investment advisor. This report is for informational purposes only and is not a solicitation to invest. Past performance is no guarantee of future results. Newfront Retirement Services does not provide legal, accounting or tax advice.
The information provided is of a general nature and an educational resource. It is not intended to provide advice or address the situation of any particular individual or entity. Any recipient shall be responsible for the use to which it puts this document. Newfront shall have no liability for the information provided. While care has been taken to produce this document, Newfront does not warrant, represent or guarantee the completeness, accuracy, adequacy, or fitness with respect to the information contained in this document. The information provided does not reflect new circumstances, or additional regulatory and legal changes. The issues addressed may have legal, financial, and health implications, and we recommend you speak to your legal, financial, and health advisors before acting on any of the information provided.
Keep up to date with Newfront News and Events—